How to use Natural Food Guide App for Wilson's disease and hemo­chromatosis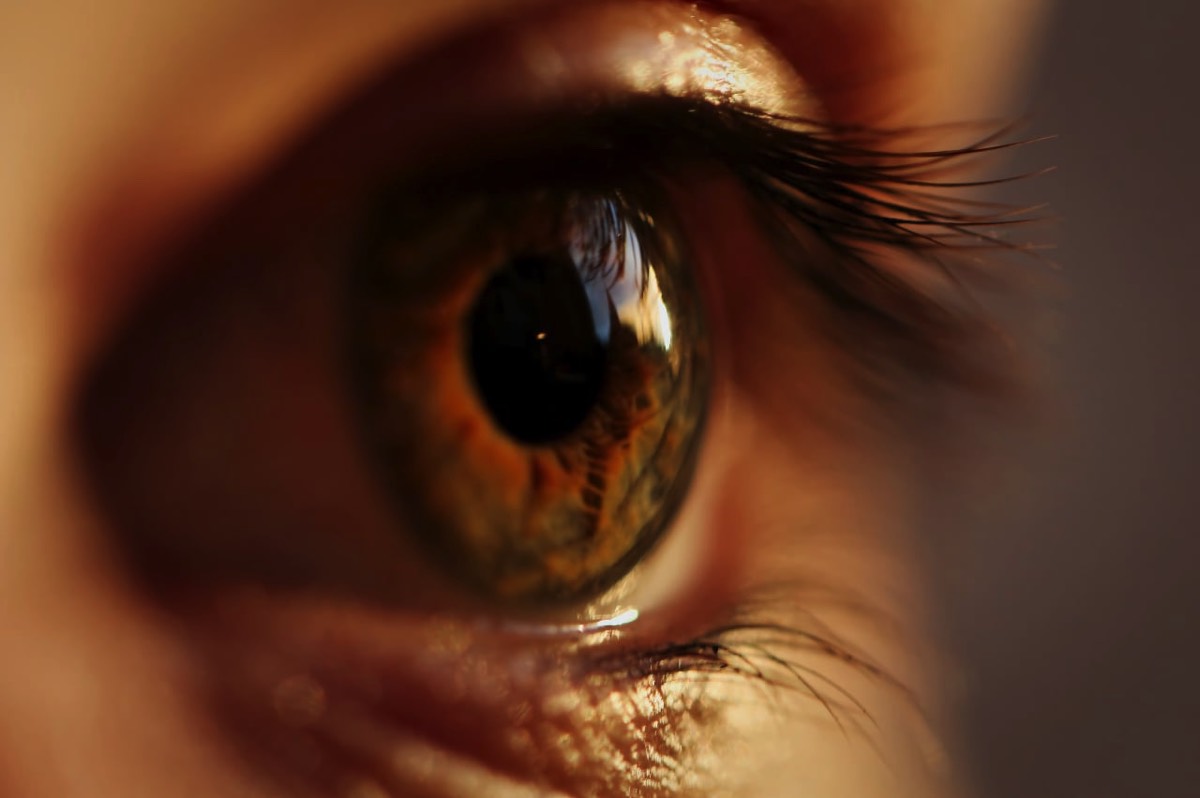 Natural Food Guide is well equipped for all topics surrounding healthy eating. But it can also be used for special dietary needs. Let's have a look at how you can configure it to help you manage Wilson's disease and hemochromatosis.
Low copper diet for Wilson's disease
Wilson's disease is a rare genetic disease, that affects the copper metabolism in the liver. The body fails to get rid of dietary copper, which is accumulated in different organs instead, e.g. in the liver or in the eyes. The symptoms are very diverse and range from damage to the liver and central nervous system to neurological deficits and copper deposits at the edge of the iris (Kayser–Fleischer ring).
Wilson's disease can be treated with medicines that lower the level of copper in the blood or that decrease the absorption of dietary copper. Another option is a low copper diet, which is, however, very difficult because copper is present in practically every food. In
Natural Food Guide
you can find information about the copper content of foods and you can also create your own criteria, that help you to identify all low copper foods in the food list with a color-rating system.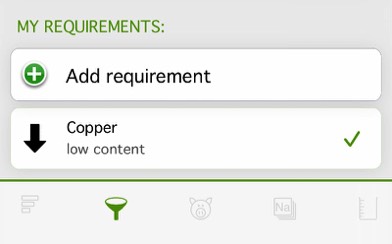 ▲
Figure 1
: You can set your own requirements, e.g. foods with a low copper content, in the setup for dietary profiles.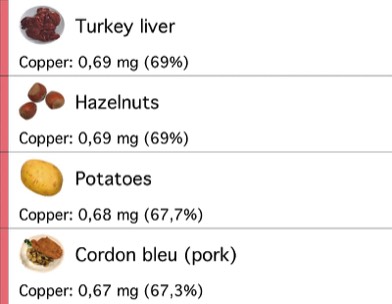 ▲
Figure 2
: With the help of this requirement all foods with a high copper content are colored red, an foods with a low copper content are colored green. Additionally, you can sort by the copper content.
Meal plan for iron overload
In most cases, hemochromatosis is the consequence of a hereditary defect that causes an abnormally increased rate of iron accumulation in the body. Therefore, the disease is also known as iron overload. Iron levels can reach up to 40 times more than normal. Over time, the high iron concentration can cause tissue damage, e.g. in the liver, the pancreas or the skin. A common consequence of this tissue damage is diabetes mellitus.
Treatment of hemochromatosis usually involves regularly scheduled phlebotomies, which can be used to bring down iron levels to a normal range. Drugs that inhibit the absorption of dietary iron are another option. As a supportive measure, iron-rich foods can be eaten in moderate amounts and shouldn't be combined with foods that increase the absorption of iron. These include, for example, beverages with high vitamin C content or alcohol.
With
Natural Food Guide
, you can check the iron content of foods or meals and highlight low-iron or high-iron foods in color by creating your own criteria. In addition, the app knows the vitamin C content as well as the alcohol content. Thus, the app can be very helpful for your meal planning.
In the following screenshots you can see how to configure Natural Food Guide for hemochromatosis.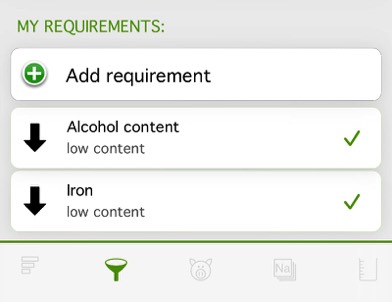 ▲
Figure 3
: Here we created two requirements, one for "low iron content" and one for "low alcohol content".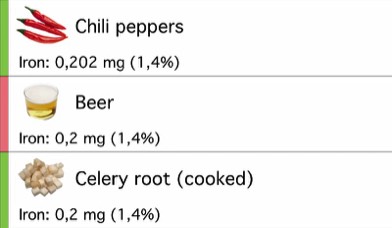 ▲
Figure 4
: Here you can see what these requirements do: All three foods are low in iron content, however, beer doesn't meet the "low alcohol" requirement and gets a red color-rating.