Coconut aminos and histamine intolerance
Soy sauce is a versatile seasoning sauce that can make many dishes taste that little bit better by giving them an extra flavor. However, it is high in histamine and glutamate and based on soy. Consumers with an intolerance to these substances require an alternative, which is where coconut aminos comes in. Here we examine its viability as a soy substitute.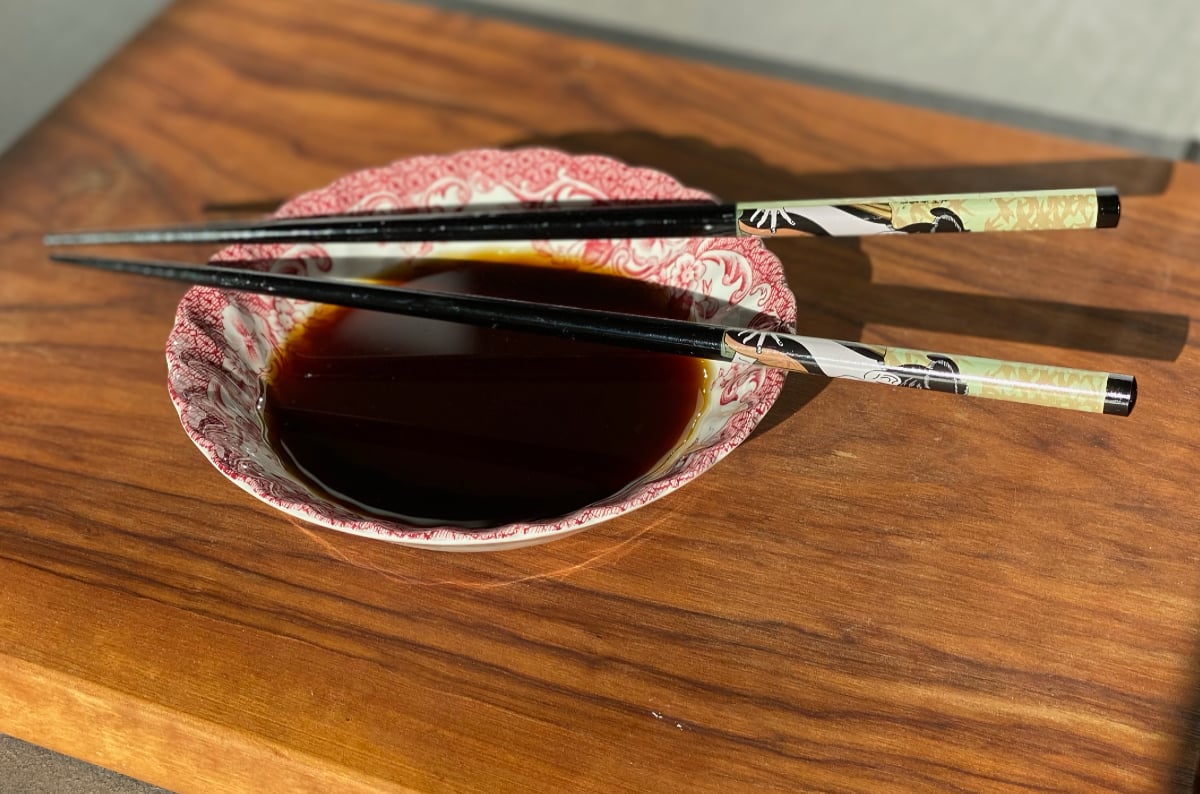 What is coconut aminos?
The name "coconut aminos" might give the impression that the sauce is made from coconuts, but this is not the case. In fact, the sauce is so called because coconut aminos essentially consists of three ingredients: the fermented nectar of coconut blossom, water, and salt. In order to get to the nectar, the blossoms are cut and the juice, which is a sweet, transparent syrup containing around 15–18% sugar (mainly sucrose), is collected in open clay bowls. Almost immediately, it then goes through a natural fermentation process due to the numerous bacteria and yeasts that are found on the coconut palm. One study identified a total of 200 different microorganisms in fermented coconut nectar, including
Saccharomyces chevalieri
, a type of yeast closely related to brewer's yeast (
Saccharomyces cerevisiae
).
Depending on how long the nectar is fermented, the result can be used for various products: as a sweetener, syrup, seasoning sauce, alcohol, or vinegar.
Unfortunately, there is no accurate information on the exact fermentation time required to produce coconut aminos (although it is likely that the natural fermentation process is halted to ensure the fermented nectar does not turn to alcohol). The nectar is then boiled down with salt water until it has the desired syrup-like consistency with a strong brownish color. Table 1 provides information on the nectar's nutritional values.
| Nutrition facts | Content per 100 g |
| --- | --- |
| Energy | 798 kJ/190 kcal |
| Fat | 0 g |
| Carbohydrates | 47 g |
| thereof sugar | 34 g |
| Protein | 0.4 g |
| Salt | 2.9 g |
▲
Table 1:
nutritional values of a typical variety of coconut aminos
How does coco aminos taste?
The basic taste of coconut aminos is actually similar to slightly diluted soy sauce, but due to its high sugar content, it has a clearly distinguishable sweetness. It can be used to give many foods an exciting, spicy flavor and it is very useful for making interesting new dips. Nevertheless, the sweetness means coconut aminos is not suitable for all dishes and cannot be used as flexibly as other seasoning sauces.
Why do we care so much about this topic?
We have been developing our price-winning "Food Intolerances" app since 2011 and we are happy to share our knowledge with you. Check it out:


What does it cost?
At present, coconut aminos is mainly available through mail order delivery. Compared to traditionally brewed soy sauce (including organic products), the price is significantly higher, especially when you consider that you require a larger amount of it than soy sauce for a meal (see Table 2). Overall, however, the price for such a niche product is fair. Our research revealed some very exaggerated prices on Amazon, for example, so it is certainly makes sense to checking the prices offered by other providers.
| Product | Price per 100 ml |
| --- | --- |
| Soy sauce (traditionally brewed) | 0.50–2.30 $ |
| Soy sauce (industrial processt) | 0.50 $ |
| Maggi seasoning | 0.40–0.70 $ |
| Lupine sauce | 3.60 $ |
| Coco aminos | 3.00–6.00 $ |
▲
Table 2:
price range of various seasoning sauces compared to coconut aminos
Meaningless marketing jargon
Delve a little deeper into the subject of coconut aminos and it will not be long before you come across the wildly exaggerated marketing spiel that manufacturers deliver when trying to sell their sauce.
Indeed, we have yet to come across a food product so dominated by marketing buzzwords. Gluten-free, soy-free, low in salt, kosher, vegan, low glycemic index, non-GMO, no MSG, low histamine, rich in polyphenols, rich in amino acids, wheat-free, Paleo diet, ketogenic diet, Candida diet, AIP diet, corn-free… the list goes on.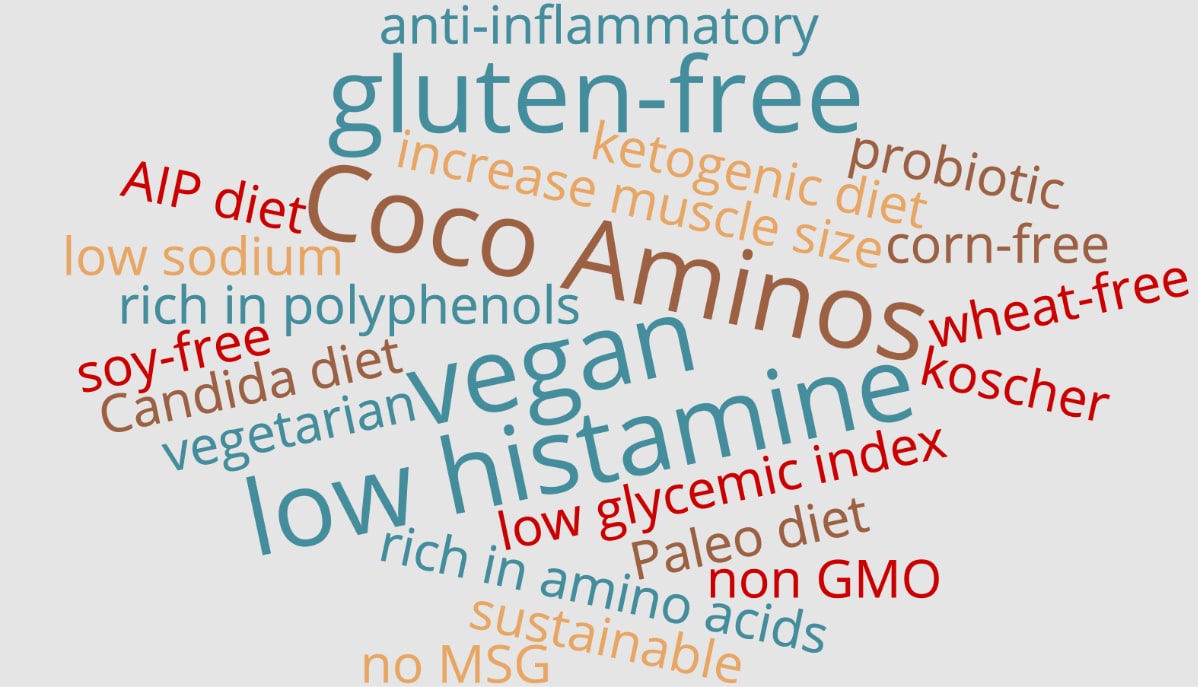 ▲
Figure 1:
a selection of buzzwords used to market coconut aminos
At this point we must declare that despite our day-to-day work in the field of nutrition, we have not heard of all of these labels. The apparent intention here is to market a new product to as many buyer groups as possible, no matter how weak the link between them and the product itself. To be sure, some of the labels are nonsense, but more on that later.
What should we make of these marketing promises?
Muscle-building & rich in amino acids
Coconut aminos contain essential amino acids, but the protein content is in the range of just 0.5 g/100 g. One tablespoon of coconut aminos only contains around 0.1 g of protein – that is roughly the same amount found in 10 g of carrots or 30 ml of lemon juice. To claim this product has a muscle-building effect is therefore nonsense.
Low glycemic load
The glycemic load of coconut aminos is indeed low, even though the sauce is about 50% carbohydrate. This is mainly due to the comparatively small portion size – one to two teaspoons – in which it is typically consumed, and conversely its relatively high proportion of fructose and FODMAPs.
Probiotic effect
Well over 200 different bacteria and yeast varieties are involved in the natural fermentation of coconut blossom nectar, and they can certainly have a positive effect on our microbiome. It is unfortunate, then, that the syrup from coconut nectar is heated and boiled down, meaning the majority of these microorganisms are unfortunately killed. Nevertheless, some of the sugars in coconut aminos do have a prebiotic effect, in that they feed useful intestinal bacteria (indeed, the living microorganisms such as those found in fermented vegetables or raw milk cheese can certainly have a positive effect on intestinal health).
Do coconut aminos contain histamine and other biogenic amines?
To answer this question, we took two varieties of coconut aminos – from Big Tree Farms and Coconut Secret – and tested them in a laboratory for histamine content.
Neither product contained histamine, which is of course very positive and hugely significant for people with a histamine intolerance.
| Manufacturer | Histamine content [mg/kg] |
| --- | --- |
| Coco Aminos (Big Tree Farms) | <1 |
| Coco Aminos (Coconut Secret) | <1 |
| Lupine sauce (Alberts) | <1 |
▲
Table 3:
Histamine content of two different coconut amino seasoning sauces
Alongside testing for histamine, we also examined the level of biogenic amines, such as tyramine, putrescine, and cadaverine, since these allow for a more precise assessment of hygiene conditions during production. All biogenic amines were below the limit of 1 mg / kg – another very positive result.
The glutamate content is another important factor. What generally happens with seasoning sauces is that glutamic acids (the salt of glutamic acids) split off from amino acids. This process, facilitated by enzymes like yeast or bacteria, produces a taste-enhancing effect and accounts for the sauce's "umami" taste. In this case, glutamate is produced naturally and is not an ingredient. Consuming large amounts of glutamate can be problematic for sufferers of histamine intolerance because it inhibits histamine breakdown. It is for this reason that we also tested the glutamate content in a lab setting.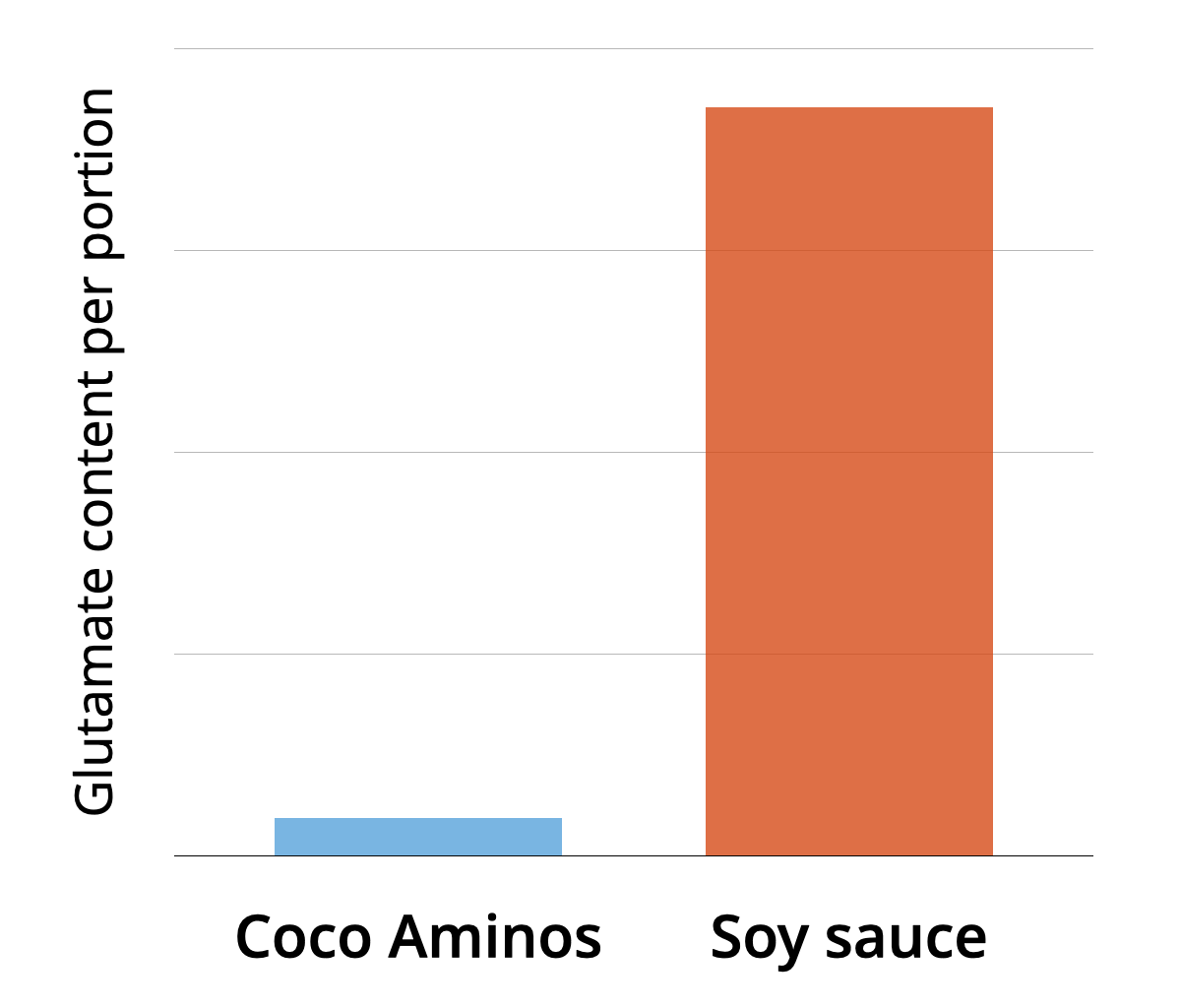 ▲
Figure 2:
Comparison of glutamate content between a portion of coconut amino sauce and soy sauce
Coconut aminos contain natural glutamate, but in a ratio roughly 20 times lower than soy sauce. One serving contains around 5 mg of glutamate, whereas a serving of soy sauce contains more than 100 mg of glutamate. Anyone whose body reacts to large quantities of flavor enhancers need not worry in this regard either.
Who are coconut aminos suitable for?
Many of the effusively positive promises made about coconut aminos are probably a little sensationalized, and one should not expect some sort of miraculous health effect from consuming a seasoning sauce.
On the contrary, we should instead consider the product for what it is: coconut aminos is a delicious seasoning sauce that can give many dishes that missing flavor. The product is certainly suitable for those people who cannot eat soy sauce or other grain-based sauces because of their soy or gluten content. And if your body reacts to histamine and other biogenic amines, or indeed to glutamate, coconut aminos can also be a good alternative to add a little spice to your food. It should also be emphasized that production of coconut aminos is ecologically sustainable and ensures a livelihood for many small farmers in southeast Asia, which certainly puts its high cost into perspective.
If you want to learn more about the formation of histamine in your food you should also have a look at
this article
!
Why do we care so much about this topic?

We have been developing our price-winning "Food Intolerances" app since 2011 and we are happy to share our knowledge with you. Check it out:


Share article
Back to blog


Sources:
J. D. Atputharajah et al., Microbiology and biochemistry of natural fermentation of coconut palm sap, Food Microbiology 3 (1986), 273-280
T. Populin et al., A survey on the presence of free glutamic acid in foodstuffs, with and without added monosodium glutamate, Food Chemistry 104 (2007), 1712–1717